Symposium in Honour of Adrian Baddeley
The scientific programme starts Thursday 7 November at 10 a.m. and ends Friday afternoon around 4 p.m.
All talks take place in Auditorium G1, Building 1532, room 215, Department of Mathematics, Aarhus University
The Rector of Aarhus University has 1 June 2013 awarded Professor Adrian Baddeley, Perth, an honorary Professorship in Statistics. With this title, the university wishes to honour Adrian Baddeley as an internationally highly estimated researcher. The honorary professorship is also a recognition of a fruitful and constructive collaboration with a number of scientists from CSGB.
To celebrate, a symposium in honour of Adrian Baddeley will be arranged 7-8 November 2013. The focus of the symposium will be on spatial point processes.
As part of the symposium, Adrian Baddeley will give an inaugural lecture 7 November at 2 p.m. This lecture will be followed by an official reception.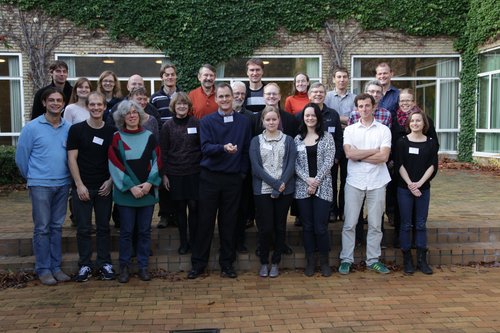 Adrian Baddeley (University of Western Australia, Perth): Joining the dots - statistics for spatial point processes
Participation in the minisymposium is free of charge. But it is needed to register by sending an email to Oddbjørg Wethelund, email oddbjorg@imf.au.dk